2015 Workshops
Saturday Group
Roses 4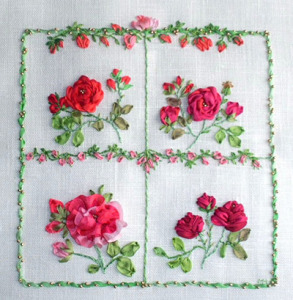 3rd Saturday of February, March and April
The Saturday ladies will work this design over 3 months. Silk ribbon in 4mm, 7mm and 13mm will be used to create these realistic Roses.
Thursday Group
Merrilyn's Flowers, a Needleworker's Companion Bag.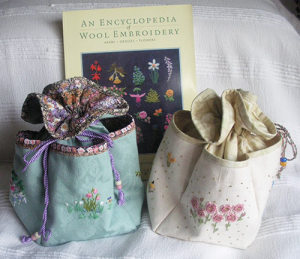 Tuesday 7th,14th and 21st July
This class was so popular with the Saturday Ladies that the Thursday group would now like to make their own Companion Bag.
Students will select the flowers they want to stitch from An Encyclopedia of Wool Embroidery Book and use threads from their own stash.  Great fun, great flexibility with great results.
All Threads – Brisbane
Fifi's Fuchsias
Saturday 14th and Sunday 15th March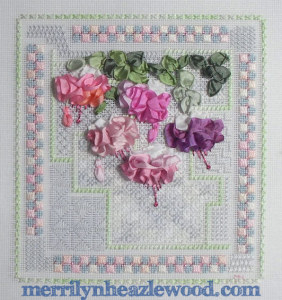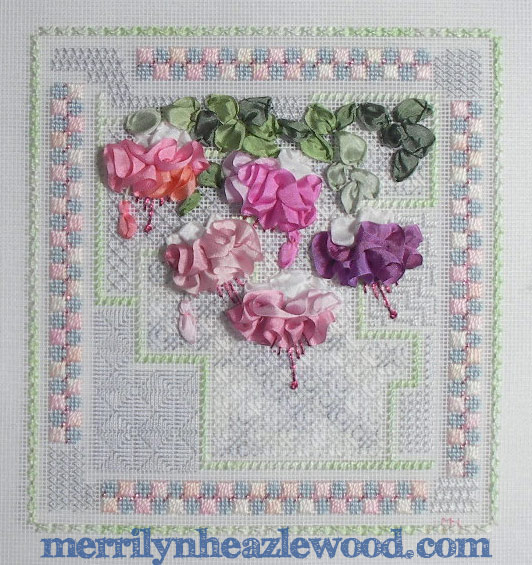 Fifi's Fuchsias was designed in a 'light bulb' moment while teaching for All Threads earlier this year.
It will be a pleasure to teach this for the 1st time at All Threads.
To book for this class contact www.allthreads.com
Needlework Cruise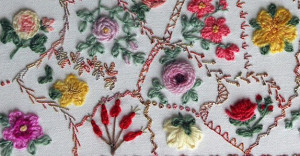 1st to 15th April
Crazy Roses is a freestyle embroidery project stitched with wool.
Each student will create their own special design, by choosing their own colours from the range provided in the kit and the placement of the Crazy paths and Roses.
Tudor Garden and Garden Gates are both counted canvas (needlepoint). These delightful pieces are easy to work.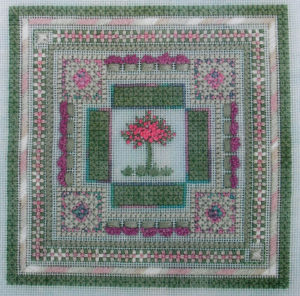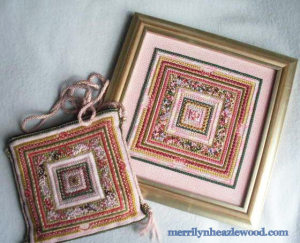 ---
A Stitch in Time – Hobart Tasmania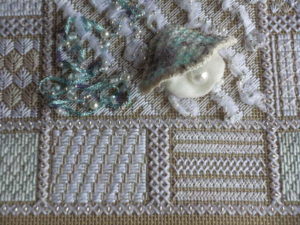 21st to 24th May 
I will be teaching these two pieces at the ANG Seminar USA 2015. These classes at A Stitch in Time are the prerequisite pilot classes for each design.
To book contact www.astitchintime.net.au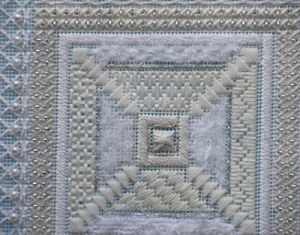 ---
American Needlepoint Guild
2015 Seminar Myrtle Beach SC
24th September to 4th October



I have been selected to teach at American Needlepoint Guild Seminar 25th September 2015 to 2nd October 2015.
For  details  please contact ANG:     www.needlepoint.org
---
Weekly Class
Every Monday afternoon a group of enthusiastic ladies meet to stitch and learn about embroidery.
This class started as a 'learn embroidery stitches' class and three years later we are all still learning (including the teacher). Threaded into a class of friendship and chatter the students work on projects of their own choice, stitching original freestyle embroidery, hardanger,  crewel  and counted needlepoint.
Finished items completed by the class have included dolls blankets, carry bag, foot stools, framed pieces, cushions/pillows, lids of trinket boxes, small table cloths and needle books.