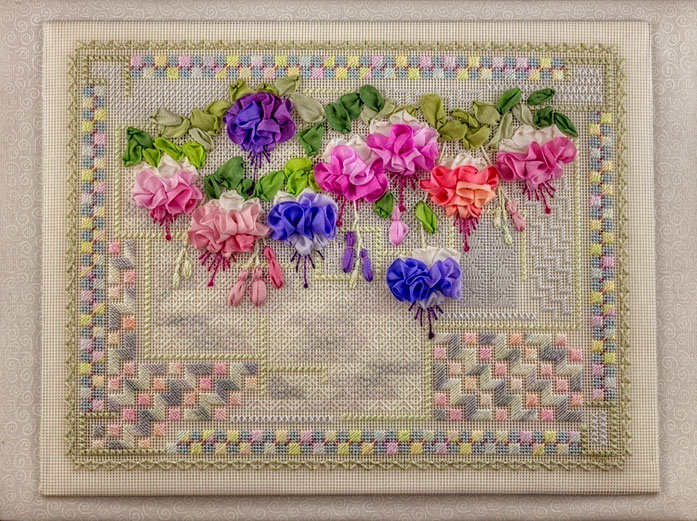 To book visit:   www.egausa.org  – early registration will open on 20th August 2017
I am delighted to have been selected to teach at the Golden Jubilee Seminar for Embroiderer's Guild of America in October 2018.
I will be teaching this Encore design of Glass House Fuchsias and can't wait to share my love of needlepoint and silk ribbon with my students.
Students who have no previous experience of working with silk ribbon are welcome in this workshop.  The Fuchsia flowers will all 'grow' with their own personality, allowing each student to create their own interpretation of this piece.
The wonderful historic Fuchsia Glass House at the Tasmanian Botanical Gardens in Hobart
was the inspiration for this design.
The panes of glass, especially in old glasshouse reflect light in various subtle ways.
I had great pleasure in stitching variations of traditional needlepoint stitches and working with variegated and fine threads, allowing some of the canvas to show through.
The Fuchsia flowers are created with 13mm silk ribbon, and 'just dance across the design'.
Kreinik  metallic threads is used to stitch the stamens.