Description
Are you looking for a Christmas/Holiday Present?
How exciting to have a new interesting piece to stitch over the Holiday Season, given with love to you by a loved one,  or to yourself.
Design size 25 x 16cm
A new Mystery Online Class:    'Iced Vo Vo's'
Registrations  Open 1st December
Close 30th January 2018
Iced Vo Vo is a totally counted piece of needlepoint.  No lines pre drawn on canvas.
What is this piece called I can hear some of my US friends asking?
Iced Vo Vo's are a biscuit (cookie) loved by Aussie children of ALL ages.
I have wonderful memories of hot summer's day on the beach with my   much loved grandma sharing a cool drink and a little biscuit treat. J  When I was a child, a bought biscuit was a real treat, my mother cooked all our biscuits and cakes.
Yes, Iced Vo Vo's  are still available and yes, my waistline has increased slightly as  a result of buying a few packets to 'photograph'.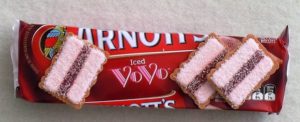 Why did I call this design Iced Vo Vo?
I design straight onto the canvas then graph when the piece is finished.
Designing a new piece for you to stitch is easy, naming the finished piece can be hard and at times frustrating.
So this is how I go about each piece I design.
First a colour pallet and thread styles are selected.
Then it is the question of what stitches will I use, some old favourites or some new ones?
What style and colour of canvas is then decided upon.
Sometimes the piece comes 'together easily' other times a piece has to be put aside for some months when 'I hit a wall' in the design process.
Iced Vo Vo's came together quickly and easily, I was enjoying stitching it so much I was sneaking a few extra hours in each day, leaving non urgent computer work for ………..later on.
I was so thrilled when having only worked a small section of the new piece, standing back and looking at my afternoon's work, I could see I had stitched an Iced Vo Vo.
The piece was named.
The finishing stages were all worked to fit into various portions of this yummy biscuit.
Over 23 stitches are worked into this design, including some of my old favourites, cross stitches in five different sizes, variations of chequerboard, cashmere and others.  Stitches left out, beads sewn in their place, and the lovely soft blue of the canvas easily seen.
French Knots and a delicate clear 'pearlized' beads bring sparkle and dance to the design.
I trust you will enjoy stitching this design as much as I have enjoyed planning and creating it for you.
The Mystery is:
You will not know what the finished design looks like until the second parcel  (2nd class) arrives at your door step or in your letter box.
Registration:    Opens  1st December 2017
Closes   30th January 2018
Ist Class Posted:  27th February 2018
2nd Class Posted:   20th March 2018
Class finishes:         27th June 2018
Complete Kit supplied by Merrilyn:
The kits you will receive over the two classes will contain:
All Threads – DMC: perle cotton 5
stranded cotton (floss)
Beads and nymo thread
Canvas
Coloured graphs with detailed instructions ( 20 pages)
Students to supply:
Needles and working frame ( if required)
Colour Options
You can order your kit in the following options
Model is worked with Pink Threads on French Blue Canvas.
2. Autumn Threads on Eggshell Canvas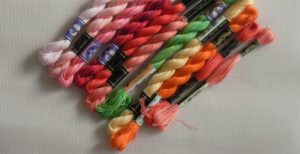 3. Blue Threads on French Blue Canvas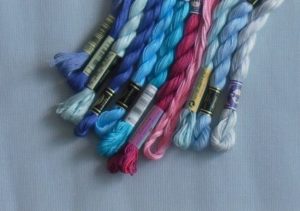 Cost: $260 including postage (at the end of Nov 2017 this converts to approx US $190)