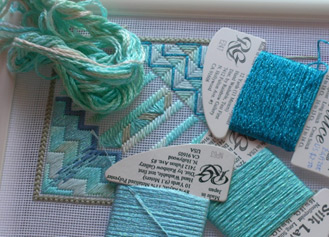 A new design with new threads brought back from the USA.
An unsuccessful (USA Government issue) application for a temporary work visa to teach at ANG resulted in classes being conducted via webcam with wonderful 'in class room' help from Susan and Becky.
With my passport 'back in my hand' I was able to be a late registration as a delegate and student at EGA in San Antonio.
This quick trip to the US was wonderful, new acquaintances and friendships made also allowed me to add to my thread collection. New designs are formatting, some on canvas and some in my mind.
2015 has been full of many ups and down, the sudden death of my father, the joy of teaching on the Needlework Cruise, the stress of wondering if the temporary work visa would be granted in time for ANG, then the quick trip to EGA.
2016 is shaping up to be a full and rewarding year.
Workshops are planned for various Guilds in Tasmania, subject and dates still to be finalized.
October and November I will be returning to the USA teaching for EGA, at the Seminar 2-6th Nov and also taking an International Teachers Tour around the Seminar. When details are finalized they will be listed on the EGA and my web site.
I am delighted that I have been selected again to teach on the Australian based Needlework Cruise 2017, subjects and details will be share with you soon.