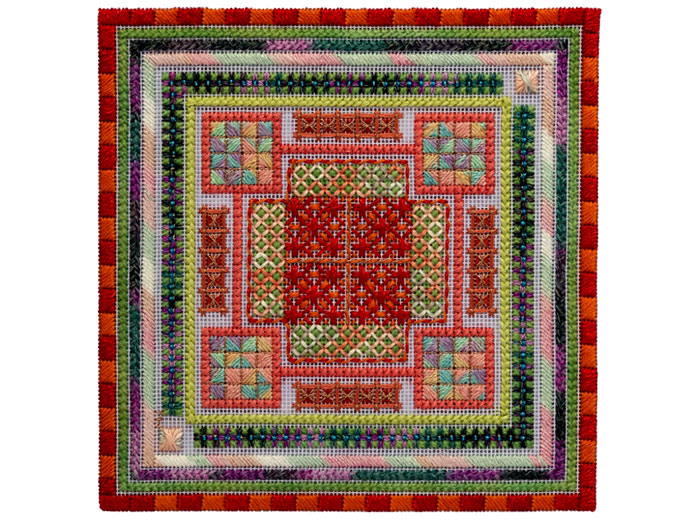 New Zealand July 2018 – Terracotta Tiles
I am thrilled to have been selected to teach to teach for the Association of New Zealand Embroiderers' Guild Inc  2018 Conference in Nelson  13th July to 19th July.
These are the two designs that have I will be teaching.
Terracotta Tiles is a delicate design with some intricate sections.  The Empresses Night Out is just 'loads of fun'.
Terracotta Tiles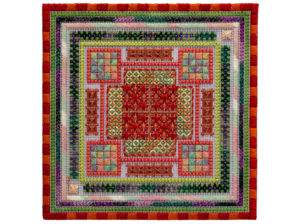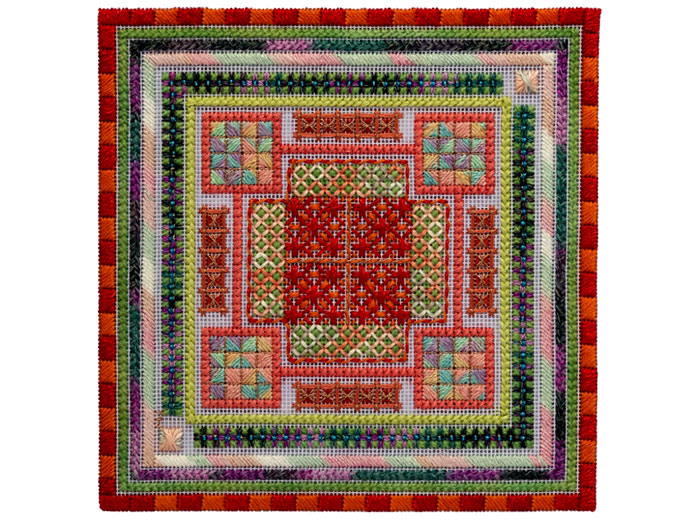 Colour and light reflect in different tones and shapes when the sun is shining on Terracotta, especially if the item is broken.
A dramatic change of colour occurs when Terracotta gets wet or even after a light shower of rain. All of these tones are combined into Terracotta Tiles.
The softness of wool thread, the soft shine created by the rayon in Expressions, and the sparkle of a fine metallic thread combine to create the characteristics of Terracotta.
Tones of Terracotta are enhanced by 'flashes of pink' that are in the variegated threads selected.
These tones sit regally on the soft lilac tones of the hand sponges background.  Merrilyn hand sponges each piece of canvas.
Eleven stitches are worked into this design, including long armed cross, flower, gobelin, scotch and rice
Empresses Night Out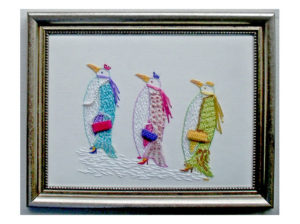 This design was inspired by the Emperor Penguins of the Antarctic. I changed their Dinner Suits for Evening Gowns!
Lady's Florence, Myrtle and Beverley are all dressed up for a Night on the Town. Students will trace the penguins onto a pull away fabric and out-line them at home.
In class students will have the flexibility of stitching their own elegant clothing, moving threads etc around, 'dressing' the Lady's in their unique style.
Over ten stitches are incorporated into this project